Brain Tumour Research Fund - Dr Daivesh Doshi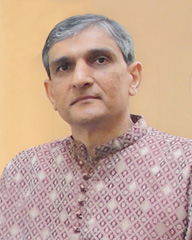 Dr.Daivesh Bhaichand Doshi
December 1956 - February 2016
Dr. Daivesh fought valiantly against Primary Central Nervous System Lymphoma for over 4 years after his initial diagnosis in 2011. Before his official diagnosis and treatment at Memorial Sloan Kettering Cancer Centre he already knew that there was something affecting his eye for which he sought opinions from the best specialists from Boston to Los Angeles. His medical training along with his curiosity had led him to believe that it was something rare that was affecting him. Eventually due his persistence a positive diagnosis was made. He always felt that if the specialists had listened to him earlier his prognosis might have been different.
After his treatment at Sloan Kettering he decided to retire from his medical practice in Long Island, New York and he returned to Mumbai. However, the disease did not leave him. He returned again to US and this time tried a different treatment at Johns Hopkins in Maryland. The treatment which involved stem cells took a heavy toll on him but he persisted in fighting the disease. Not sure about the outcome of his treatment he once again returned to Mumbai to his ancestral home and where he once practiced as an Orthopedic Surgeon. This is also the place where he had been with his father who also valiantly fought a battle with Brain Tumor of a different kind. The disease returned to him. As a medical doctor he knew exactly the way in which the disease was going to take over his body. He was still determined to fight it.
In the last year of his fight he was referred to TMH and Dr. Jalali by a mutual colleague. When he first visited TMH he was not sure how well he could be treated in such a public hospital when the world's best hospitals had failed him. When he finally met Dr. Jalali and his team he was moved by their positive attitude and compassion. He knew in his heart that he was fighting against time but Dr. Jalali's compassionate approach gave him something to look forward to.
In the last month of Dr. Daivesh's life the disease had taken over his body. He knew when this was going to happen and before that he had instructed his family to pay a special tribute to TMH and Dr. Jalali's team. Dr. Daivesh who graduated from Topiwala National Medical College in 1980 knew what it was like to be a doctor. He was curious, always had a thirst for new knowledge and was always striving to put himself in his patient's shoes.
His family would like to honour Dr. Daivesh's wishes and support the quest for more knowledge to improve the odds for patients with Brain Tumor. His family hopes that Dr. Daivesh sets an example for others to fight the disease and to support those who find cure for it.